HYDRAULIC PUMPS AND MOTORS

DESIGNED FOR MILITARY ENVIRONMENTS
Countermining and Route Clearance

Components
HYDRAULIC PUMPS AND MOTORS
DESIGNED FOR MILITARY ENVIRONMENTS
Countermining and Route Clearance
Components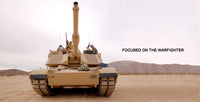 FOCUSED ON THE WARFIGHTER
Allied Defense is a U.S based technical services company providing innovative hydraulic systems, fluid power products and solutions for military markets with prime mission focus on the warfighter.   
Allied Defense develops and delivers to our military highly effective subsystems and components. As the complexity of our systems has increased, so has the need for effective engineering throughout the life cycle. We face challenges in implementing robust systems engineering processes, from the identification and analysis of requirements through the selection and assessment of technology and architecture, analysis and coordination of complex system design, development, execution, and delivery of rigorously tested production systems with a full complement of sustainable hardware and software capability.  We are now focusing on all acquisition phases with rigorous technical planning and engineering analysis
Our core mission is to support DoD acquisition with modernizing, operating, and sustaining our customers' systems.